I Can Read the Bible in Hebrew
TM
Learn to read, pronounce and understand
the text of the original Hebrew Bible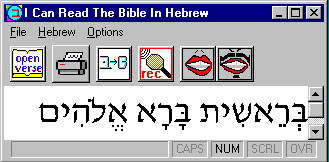 Perhaps the greatest literary work of all time, the Bible, with its stories, poetry, and teachings, has guided countless generations through the glories and travails of life on Earth.

Designed to bring the wisdom of centuries to a wide audience, "I Can Read the Bible in Hebrew" offers you this ancient text in a format that gives you the opportunity to learn to read Hebrew as never before. This program has amazing value, and is the only Hebrew reading program to include syllable-by-syllable pronunciation, transliteration options and printouts.


Here are just some of the many features:
Choose your favorite Bible Stories and Bible Quotes.
Select Male/Female voices to read the Hebrew.
See each spoken syllable highlighted and transliterated.
View and print out any Hebrew verse(s).
Choose the style of transliteration you want.
Hear yourself read in Hebrew.
Understand the Hebrew with a verse-by-verse translation.
and much much more...

---
Click here for Sample screens and printouts


---
I was amazed at how quickly I learned to read Hebrew using "I Can Read the Bible in Hebrew". Thank you." - Jennifer McClain, Miami , FL -

"I have a wonderful Bible research program which presents Hebrew on my screen, but I can't read it. With "I Can Read the Bible in Hebrew", any verse I am researching can actually be read aloud - I will finally learn to read Hebrew!
- John Perry, Boston , MA -

I Can Read the Bible in Hebrew has been a very useful and helpful tool for me in my preparation when it's my turn to do the Torah reading at my congregation. I get a Hebrew print-out with the syllables alternating in red and blue and it helps me pronounce the Hebrew. This product has really helped facilitate the learning process for me. Thank you so much.
- Dave Talmadge, Grandview, MO -
---




Win 95/98/Me/2000/NT/XP/VISTA/7



Price: $39.00