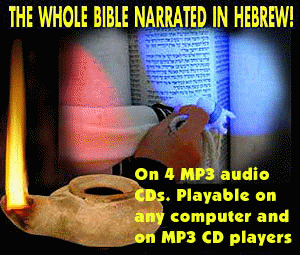 Narrated in Hebrew by Shlomo Bertonov, Israel's best Bible reader.


Features his original readings that were broadcast for decades on Kol Israel, Israel's national radio.


This Hebrew narration of Hebrew Scriptures was recorded with excellent intonation, diction, and accent.


The selections are arranged by book, chapter, and weekly portion.


The CDs are recorded in MP3 format. They are playable on CD players and computers with MP3 support.